Create your own
online presentation / Website / Webshop
WE HAVE BUILT
THOUSANDS OF SUCCESSFUL
PROJECTS
10 000 +
web projects on
ClickEshop
Web / Webshop
customized ADJUSTMENTS

Do you have specific requirements for design or functionality? We will distinguish you from others with unique design and prepare solution with customized features. We're not afraid of any request.

We like to face new challenges. Do not hesitate to contact us.
DO IT YOURSELF,
website/webshop in a few clicks

You can have quality website / webshop without high input investments. Choose one of our templates provided free and adapt it to your wishes.
Do what thousands of our customers have already successfully done. You will not be alone, feel free to contact us.
Why ClickEshop?
modern solution
with support

You will get innovative content management and publishing system with regular updates. We are constantly innovating - HTML5, CSS3, drag&drop . No forms - easily edit content directly through the website layout
professional
functionality

All you need for running online store/website is included in package price. In all paid packages you get fully functional online store. We don't make differences between customers.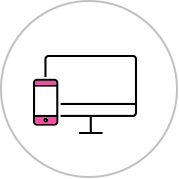 responsive
design

All templates are responsive - optimized for mobiles, tablets and other devices with small and high resolution.
fast and secure
cloud hosting

Stable, reliable, fast
and secure hosting.
16 years of experience in software solutions.
Website / Webshop
choose graphic template

Change your graphic template anytime you want. Customize and fill in the content according to your requirements.
It is so easy to create a project..
Enter
Project name
and email
Project
is immediately
created
DONE!
Fill in the content
and you are online
Get more with us ...
SEO optimization
Automatic search engine optimization as well as the opportunity to set professional SEO marketing. We provide our customers consulting how to set up project for search engines for free.
Custom made adjustments
We can create web/online store customized to your requirements on design and functionality. Or you can select one of our free templates and customize it yourself according to your requirements.
All in one
All you need for a successful presentation. Professional content management system, web hosting, graphic templates and email in one package.
Updates + Support
Our customers automatically get new functionality and customer support. Your project always has the latest updates.
Domain + E-mail
You can use your own domain name, or you can register a new domain through our company and get also an e-mail for free..
Know your customers
Know your customer's behaviour better. Graphical statistics directly in the administrator and interconnection to Google Analytics will help you make right decisions.